Xbox News Colume
This the news colume where u can find inportent info on what is happerning in the xbox world.



20/5/03 - News Page Updated
19/5/03 - Mech Capture The Flag Mode Released
21/5/03 - News Page Updated
13/5/03 - Brand New Shots On Halo2 Page
9/5/03 - New Halo2 Pic on Screens Page
2/5/03 - Clan Battle on Sunday 8pm (mech)
9/5/03 - News Page Updated
2/5/03 - New Page (deal page)
29/4/03 - Check Forums Clan Battle
28/4/03 - New ScreenShots Of Halo2 (Screens Page)

Xbox Goes Live
Xbox Live: the ultimate broadband gaming experience is finally here! Gamers in the UK, Germany, France, Italy, Spain, the Netherlands, Belgium, and Sweden can now match wits against opponents in North America and Japan. Play anyone, anytime, anywhere. What are you waiting for? Get in the game!

Games Releasd This Friday 30th May

Yager
Pro Beach Soccer

These Are NOT Final Dates, They Can Be Held Back.

Clan Battles For FireStorm
The battle page is up, see what battle we have instore for firestorm and what other clan are out there.
E-mail
Weekly FireStorm Poll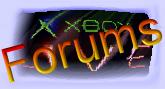 Please Visit Our Forums
Please Click On The Forums You Wish To Go To
News

Clan Matches

Annocement

Please Use The Forums Right And Do Not Put Wrong Post In Wronge Forums Pages Please.
Please Have A look At the link and join the site its a very good forums site.


www.XboxOnLive.co.uk